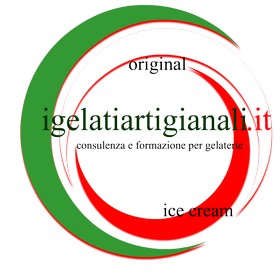 Courses and expert advice for Italian homemade ice cream production
---
My name is Armando Ciotola and for years I look after the training, the craftsmanship, marketing and business management. I am an ice cream maker and son of Art.
My father, Alfonso, has passed on me an homemade craft, learned from his father. Years ago the homemade ice cream production was very different from nowadays, manufacturing was slower and more difficult. You learned this art working in laboratories; you needed to steal it from the masters who jealously kept their recipes secret. Nowadays it is a much more scientific homemade craft made up of the study of chemistry, raw material analysis, calculation of balance and lots of creativity. I studied and experimented, creating my own recipes and different techniques, and now it's a strong passion for me and I pledge myself to it like consultant. During my long working path I met several masters, I attended different refresher courses about the new techniques for the production of homemade ice cream, Italian semifreddo, hot ice cream, mignon and small portions of ice cream, cold pralines, etc. And I go on with the experiments of new techniques and to feel more and more master of the craft, being able to expand in all areas of the ice cream production and beyond.Today I go on with having fun creating recipes with my father and together we try to pass this job on anyone who wants to approach this exciting and creative world, hoping to form even new masters of Italian ice cream, going along with their path from the heart of the production (raw materials) to the business strategies for the management of the ice cream assets.
---
Credits
Ice cream parlour "Cono Amore e Fantasia" Frattamaggiore (NA)
Relaxing Music Bar "Chuka" Arco Felice (NA)
Ice cream parlour and bar "Il Golosone" Villaricca (NA)
Visual Bar Gelateria "Motus" Napoli (NA)
American Bar "Cycas" Bacoli (NA)
Ice cream parlour and bar "Arminio" S.M. A Vico Caserta (CE)
Ice cream parlour "La Piazzetta" Rome (RM)
Take part in various competitions of ice cream:

October 2008 Fair Pa.Bo.Gel. Rome
"International Competition of ice cream"
"Shield Puntoit" taste fior di latte 1st prize

November 2008 Fair Exposudhotel Naples
2nd International Competition of ice cream 3rd prize

January 2009 Fair in Rimini 30th Sigep International Competition
"Ice cream of the year" One thousand ideas for a new taste
Special prize "Association ice cream makers, region Lazio"

Special prize "Forum Palatium"
"Italian Association ice cream makers"
---
Furthermore:
We follow our customers around the world, we are available as well as training to dedicate ourselves to the person tutoring for new openings also outside our country. In years of business as consultants Masters, we have alumni now owners of Ice Cream Parlors in Brazil, Algeria, Switzerland, United States, Jordan displaying our certificate and represent well with their professionalism, the way we produce artisan, giving continuity to the true Ice cream made in Italy.
---